This page is the brochure for your selected program. You can view the provided information for this program on this page and click on the available buttons for additional options.
CCSA: Summer 2014 - Ireland Late
Dublin, Ireland;
Galway, Ireland
(Outgoing Program)
Featured:
Program Terms:
Summer

Program Sponsor:
CCSA- Cooperative Center for Study Abroad
There are currently no active application cycles for this program.
| | | | |
| --- | --- | --- | --- |
| Course Disciplines: | Art, Communication, Health Care, Literature, Music Business, Songwriting | Faculty's Member Institution: | Belmont University, Murray State University, Thomas More College, University of Kentucky, Western Kentucky University |
| Program Type: | Short Program | Air Travel Options: | Group Travel Available (from CCSA Departure Cities), Independent Air Travel Available |
Ireland Late
- PROGRAM CLOSED - Wait List applicants only
DATES: JULY 7, 2014 – JULY 22, 2014
PRICE: $3095 WITHOUT AIRFARE; $4295 INCLUDING AIRFARE
APPLICATION DEADLINE: February 21, 2014
EARLY APPLICATION DEADLINE: $100 discount for applications received by February 7, 2014
CREDIT: 3 hours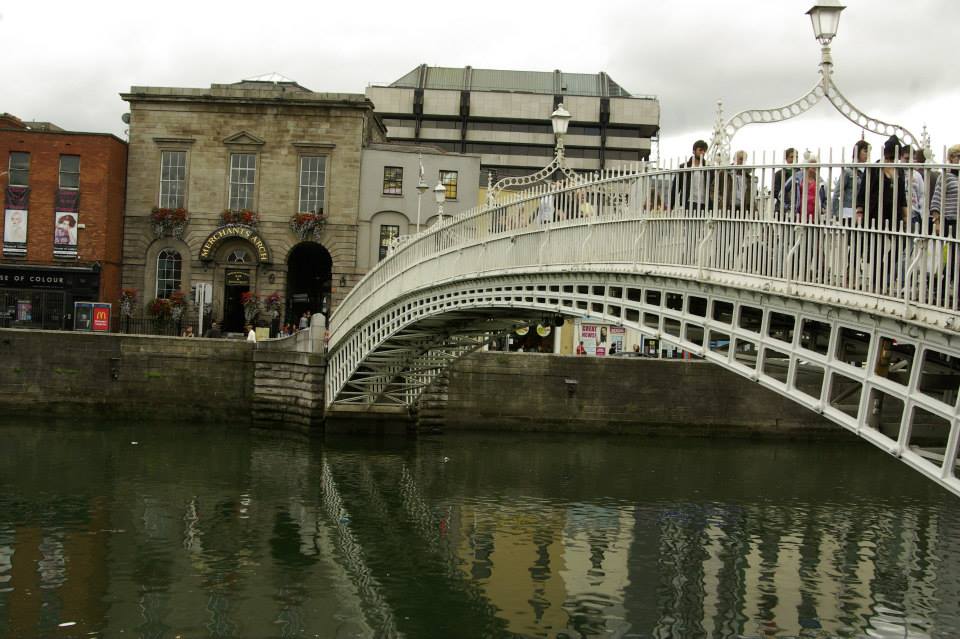 Program Overview
Ireland: its green hills, quaint villages, dramatic coast and vibrant capital call to people around the globe to visit and often to return home. Ireland's rich and complex history helps to explain both the love many people feel for the Emerald Isle and why more people of Irish descent live outside its shores than in it. Join CCSA for two weeks in July to explore this land to which so many Americans can trace at least some of their ancestry. Starting in Dublin, we'll explore the city immortalized by James Joyce, visit the ancient monastery at Glendalough and hear the music that pours into the streets on Temple Bar. Then we'll take the southern route through picturesque fishing villages, across valleys dotted with cottages and flocks of sheep, experiencing such places Dingle and Kerry. Finally, in the West of Ireland, burial place of ancient heroes and W. B. Yeats, we'll reach some of the last outposts of the Gaelic language which gave birth to the Celtic culture that still defines this modern nation.
By combining this intensive study abroad experience with course-specific directed study activities preceding and/or following the travel portion of the program, students may earn three semester hours of college credit.
Please carefully read the Program Details section for additional information pertinent to all CCSA programs.
PROGRAM COSTS
For those making their own flight arrangements, the price of the
Ireland Late Program is $3095. Participants arranging their own air
transportation must contact the CCSA Central Office before initiating
travel arrangements and must file a copy of their flight itinerary with
the office after reservations have been made. In making transportation
arrangements please note that the in-country portion of the Ireland Late
Program begins and ends in Dublin on July 8 and July 22, respectively.
Airport transfers to and from the accommodation site are provided
ONLY to those participants for whom CCSA has arranged air travel.
For those traveling on a flight arranged by CCSA, the price of the
Ireland Late Program is $4295, which includes round-trip transportation
from designated cities as well as airport transfers to and from the
accommodation site.
Included in the program price for all participants are:
• internal transportation between program sites
• accommodations
• ISIC (International Student Identification Card)
• most program excursions
• health and emergency evacuation insurance
• daily breakfast and some additional meals
All prices are subject to change in the event of unanticipated increases
in airfares, monetary exchange rates or other changes in program costs.
In some cases, program items may be deleted in lieu of a price increase.
Additional costs
Most meals, other than breakfast, are at the participant's own expense. A
minimum of $600 should be budgeted for meals and additional courserelated
transportation and entrance fees not covered in the program
price. Additionally, approximately $150 should be budgeted for
textbooks and other required course materials. Participants should also
budget additional funds for personal expenses such as souvenirs and
independent travel, based upon their individual spending habits.
Tuition is not included in the program costs detailed above. Please
refer to Registration/Tuition & Fees in the Program Details section for
additional information.
ACCOMMODATIONS
Participants in the Ireland Late Program reside in dormitories and local
hotels. Accommodations are based primarily on double occupancy with
occasional use of multi-bedded rooms; single rooms may be available at
an additional price.
PAYMENT SCHEDULE & DEADLINES
Applicants are encouraged to apply well in advance of the February
21, 2014 application deadline, as priority is given to early applications.
Applications submitted on or before February 7, 2014 receive a $100
deduction in the program price, reflected in a reduced application fee,
due at time of application.
• Non-refundable Application Fee: $200 if received on or
before February 7, 2014; $300 for applications received after
February 7, 2014. The application fee, which must be paid
by credit or debit card at time of application, serves as a
deposit toward the overall program price.
• First Payment: $2000 due on March 7, 2014.
• Final Payment: $1995 for those traveling with the CCSA
group, $795 for those making their own arrangements,
due on April 4, 2014; the single room supplement, if
applicable, is also due at this time.
Effective October 1, 2013: As a 501(c)3 educational organization, CCSA
will be assessing a 3% surcharge on all credit card transactions. This
surcharge will be automatically added to each credit card payment.
Please familiarize yourself with the Payment Information and
Cancellation Policy in the Program Details section.
Shortly after submission of the online application and fee and
completion of the local CCSA Campus Representative Approval
Recommendation, applicants will receive an application approval
notification. During the online application process, students from
non-consortium schools will receive instruction regarding additional
application requirements.
An official letter of acceptance into the program will be sent
electronically approximately three weeks after the program application
deadline, at which time final approval of course selection will be
confirmed in your on-line application.
Course descriptions
The following are descriptions of the courses of study offered for this CCSA program. Applicants may register for courses offered by professors from any member institution. Students are encouraged to email faculty to learn more about the classes.
Before applying for any course, refer to the course description regarding prerequisites. Course prerequisite(s) must be completed or, where applicable, waived by the course instructor, prior to the program's departure.
ART
The Art of the Illuminated Manuscript
Dublin, Ireland is home to the Book of Kells, an illuminated manuscript
considered one of mankind's greatest artworks. It has inspired generations
of artists including literary giants like James Joyce. In this class, students
will use visual and verbal journaling to collect imagery and inspiration
from Dublin, Cork and Galway while making day trips to many of Ireland's
great sites. Trinity College, Glendalough, Blarney Castle, the Cliffs of
Moher, the Aran Islands and Waterford Crystalworks are just some of
the sites this class may visit. Irish mythology will be emphasized and
participants will develop illuminated manuscripts based on their journals.
(3 cr. hrs., LD, Prof. Daniel Johnson [
dan.johnson@belmont.edu
] Belmont
University)
ACADEMIC INFORMATION
COMMUNICATIONS
Risk & Crisis Communication
The purpose of this course is to compare and contrast approaches
to risk and crisis communication and emergency management in
different countries and media markets. While in Dublin, students will
visit public relations agencies that provide crisis communication
consultation, emergency planning and response agencies/
organizations, and select businesses and media outlets. Special
emphasis is placed on crisis planning, media relationships, image
restoration, ethical responses, organizational learning and community
and organizational preparedness and response.
Prerequisite: Introductory Course in Communications, Journalism or
Management, or permission of instructor
(3 cr. hrs., UD, Dr. Shari Veil [
shari.veil@uky.edu
] University of
Kentucky)
ACADEMIC INFORMATION
ENGLISH
Course Cancelled
Landscape & the Literary Imagination in 20th Century Irish Literature
Joyce's Dublin and Yeats' Galway--these are just two of the places and
authors we will read and experience in this course, in the heart of the
nation that produced so many important authors and literary works. Irish
poetry, the Irish short story and Irish drama live in a nation known for both
conflict and literary imagination, represented especially powerfully in
the work of Seamus Heaney, a primary focus of this course. Experience
the landscape, the history and the cultural context in which these great
works of literature were conceived and produced. From Dublin to Cork
to Galway, students will visit museums, homes, libraries, literary centers
and bookshops with direct connections to the literary production of this
marvelous nation.
(3 cr. hrs., UD, Dr. Peter F. Murphy [pmurphy@murraystate.edu] Murray
State University)
ACADEMIC INFORMATION
HEALTH CARE
Course Cancelled
"The Best of Times, the Worst of Times": A Tale of Two Countries' Health Systems
This course provides an overview of the continuum of care offered under
the health care systems of Ireland and the United States. The continuum
of care includes the following: public health/preventive care, primary
care, ambulatory/out-patient services, acute care, post-acute care (longterm/
nursing home care, home health care/durable medical equipment
services, hospice and rehabilitative services), behavioral health services
and organ donation practices. Key select aspects of each system--access,
quality, cost and continuity--will be explored. Discussion will take place
concerning important concepts associated with each system, including
operating infrastructure, funding sources and policy-making resources.
(3 cr. hrs., LD/UD, Dr. John D. Rudnick, Jr. [jack.rudnick@thomasmore.edu]
Thomas More College)
ACADEMIC INFORMATION
SONGWRITING/MUSIC BUSINESS
Lyric Writing in Ireland
Ireland has produced some of the world's greatest musical talent
from the Chieftains to Van Morrison, Enya to U2, The Cranberries to
Damien Rice, The Script, Luka Bloom and Moya Brennan. Come and
explore the Irish musical traditions that influenced their songwriting.
Walk the streets of Dublin and drink from the deep well of inspiration
that flows from the Emerald Isle. You'll learn to write your own lyrics
and engage your creative self. Field trips will include a visit to IMRO,
The Irish Musical Rights Organization, to meet with some local singer/
songwriters.
Prerequisite: Fundamentals of Commercial Songwriting I & II or
consent of instructor
(3 cr. hrs., LD/UD, James Isaac Elliott [
james.elliott@belmont.edu
]
Belmont University)
ACADEMIC INFORMATION