This page is the brochure for your selected program. You can view the provided information for this program on this page and click on the available buttons for additional options.
CCSA: Summer 2014 - Stratford/London Shakespearience
London, United Kingdom;
Stratford-upon-Avon, United Kingdom
(Outgoing Program)
Featured:
Program Terms:
Summer

Program Sponsor:
CCSA- Cooperative Center for Study Abroad
There are currently no active application cycles for this program.
Stratford/London Shakespearience
DATES: June 4, 2014 - June 19, 2014
PRICE: $3795 WITHOUT AIRFARE; $4995 INCLUDING AIRFARE
APPLICATION DEADLINE: February 21, 2014
EARLY APPLICATION DEADLINE: $100 discount for applications received by February 7, 2014
CREDIT: 3 hours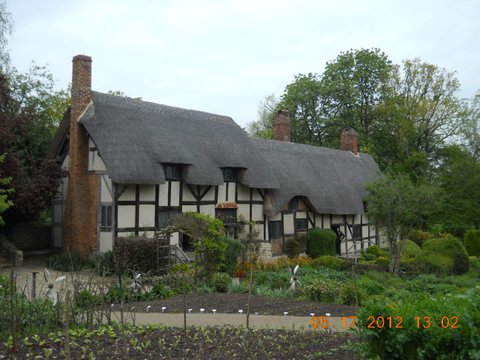 Program Overview
For centuries writers and painters alike have tried to capture the essence of what William Blake called this "green and pleasant land" and Shakespeare termed "this sceptered isle...this other Eden... this blessed plot, this realm, this England." All too often, though, visitors to England spend time only in and around the magnificent metropolis of London, never experiencing the beauty
and history of England's rural villages, castles, fields and forests. On this program, revel in the opportunity to immerse yourself in both the green and pleasant lands surrounding Stratford-upon-Avon, the birthplace of that greatest of all English writers:
William Shakespeare, and the excitement of London, home to the Tower and the Globe. You will also attend plays in theatres old and new, visit the ancient centre of learning at Oxford, visit such aristocratic residences as Blenheim Palace and Coughton Court, take an extended excursion through the Lake District and enjoy all that England has to offer.
By combining this intensive study abroad experience with course-specific directed study activities preceding and/or following the travel portion of the program, students may earn three semester hours of college credit.
Please carefully read the Program Details section for additional information pertinent to all CCSA programs.
PROGRAM COSTS
For those making their own flight arrangements, the price of the
Stratford/London Shakespearience is $3795. Participants arranging
their own air transportation must contact the CCSA Central Office
before initiating travel arrangements and must file a copy of their flight
itinerary with the office after reservations have been made. In making
transportation arrangements please note that the in-country portion of
the Stratford/London Program begins in Stratford on June 5 and ends
in London on June 19. Airport transfers to and from the accommodation
site are provided ONLY to those participants for whom CCSA has
arranged air travel.
For those traveling on flights arranged by CCSA, the price of the
Stratford/London Shakespearience is $4995, which includes round-trip
transportation from designated cities as well as airport transfers to and
from the accommodation site.
Included in the program price for all participants are:
• internal transportation between program sites
• accommodations
• ISIC (International Student Identification Card)
• most program excursions
• health and emergency evacuation insurance
• daily breakfast and some additional meals
All prices are subject to change in the event of unanticipated increases
in airfares, monetary exchange rates or other changes in program
costs. In some cases, program items may be deleted in lieu of a price
increase.
Additional Costs
Most meals, other than breakfast, are at the participant's own expense.
A minimum of $600 should be budgeted for meals and additional
course-related transportation and entrance fees not covered in the
program price. Additionally, approximately $150 should be budgeted
for textbooks and other required course materials. Participants should
also budget additional funds for personal expenses such as souvenirs
and independent travel, based upon their individual spending habits.
Tuition is not included in the program costs detailed above. Please
refer to Registration/Tuition & Fees in the Program Details section for
additional information.
ACCOMMODATIONS
Participants in the Stratford/London Shakespearience reside in local
hotels. Accommodations are based primarily on double occupancy
with occasional use of multi-bedded rooms; single rooms may be
available at an additional price.
PAYMENT SCHEDULE & DEADLINES
Applicants are encouraged to apply well in advance of the February
21, 2014 application deadline, as priority is given to early applications.
Applications submitted on or before February 7, 2014 receive a $100
deduction in the program price, reflected in a reduced application fee,
due at time of application.
• Non-refundable Application Fee: $200 if received on or
before February 7, 2014; $300 for applications received after
February 7, 2014. The application fee, which must be paid
by credit card at time of application, serves as a
deposit toward the overall program price.
• First Payment: $2300 due on March 7, 2014.
• Final Payment: $2395 for those traveling with the CCSA
group, $1195 for those making their own arrangements,
due on April 4, 2014; the single room supplement, if
applicable, is also due at this time.
Effective October 1, 2013: As a 501(c)3 educational organization, CCSA
will be assessing a 3% surcharge on all credit card transactions. This
surcharge will be automatically added to each credit card payment.
Please familiarize yourself with the Payment Information and
Cancellation Policy in the Program Details section.
Shortly after submission of the online application and fee and
completion of the local CCSA Campus Representative Approval
Recommendation, applicants will receive an application approval
notification. During the online application process, students from
non-consortium schools will receive instruction regarding additional
application requirements.
An official letter of acceptance into the program will be sent
electronically approximately three weeks after the program
application deadline, at which time final approval of course selection
will be confirmed in your online application.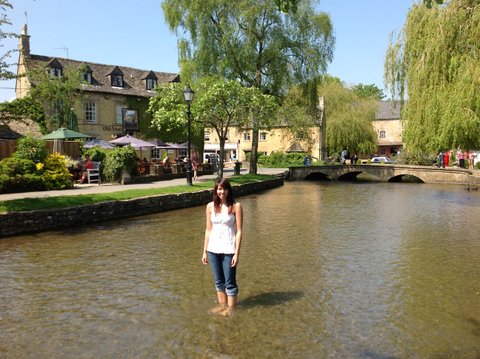 COURSE DESCRIPTION
Following is a description of the course of study offered for this CCSA program. Applicants from any member institution may register for this course. Students are encouraged to email faculty to learn more about the class.
Course prerequisite(s) must be completed or, where applicable, waived by the course instructor, prior to the program's departure date.
English/Theatre/Drama
The Shakespearience of a Lifetime:
Studying the Bard in His Own Backyard
All the world's a stage, but in Shakespeare's case, it was divided
between his birthplace, Stratford-upon-Avon and London. The
charming town of Stratford-upon-Avon and the surrounding
picturesque Cotswolds villages provide an idyllic setting for studying,
viewing and discussing the works of the world's most eminent
playwright. We will prepare close readings and analyses of at least
two plays and discuss various aspects of theater, including staging,
directing, costuming, art direction, lighting, music and performance.
In addition to seeing at least two Royal Shakespeare Company (RSC)
plays and touring the newly renovated RSC Theatre, you will visit wellknown
sites such as the house on Henley Street, where Shakespeare
was born, and Holy Trinity Church, where Shakespeare is laid to rest.
We will visit the home of his mother Mary Arden in Wilmcote and his
wife Anne Hathaway's cottage in Shottery. Tentative field trips include
a visit to Warwick Castle, Blenheim Palace (filming site for Kenneth
Branagh's Hamlet), Coughton Court, and Oxford University. Following
our stay in Stratford-upon-Avon, we will travel north to visit England's
scenic Lake District, home to the Romantic poets who were influenced
by Shakespeare's exquisite verse. From the Lake District, we will
journey south to fabulous London, revel in its iconic sites and enjoy
a performance at Shakespeare's bankside Globe Theatre, Britain's
National Theatre, or the new Sam Wanamaker Playhouse. Join me on
this excellent adventure and live the Shakespearience of a lifetime as
you study the Bard in his own backyard!
Prerequisite: completion of lower-division freshman composition and
World Literature
(3 cr. hrs., LD/UD, Dr. Mickey Wadia [
wadiam@apsu.edu
] Austin Peay
State University)
ACADEMIC INFORMATION